TOP ALBUMS OV 2022 W/ BEN SERNA-GREY, 365 DAYS OF HORROR, AND SNOOTY MCWORDS!
It is LISTMANIA 2K22 Day 2, and hot dog, do we have some treats for you. We heard you like S L A B S. We heard you like highly-anticipated rekkids. And guess what? We're delivering all both of those things today with Top 10s from the inimitable Ben Serna-Grey, 365 Days of Horror, and Snooty McWords! Prepare for wallet despair.
Ben Serna-Grey
2022 was determined to beat me up and take my lunch money. My day job location permanently shut down and I had a solid month where I was unsure where and if I was being transferred. I started school again after swearing I was done forever, this time for library and information science. My own album came out on a label and everything. I had a book come out. A bunch of other stuff has been going on as well both terrible and great but it's all culminated in being spread way too thin to write that many articles this year. Sorry, guys. We'll see how 2023 goes. The good news is, there's plenty of great music that came out this year and I've got 10 offerings for you today, as usual presented in no particular order and with no particular constraints in regards to genre. There's a wide world of music out there. Deny yourself nothing.
Nduduzo Makhathini – In the Spirit of Ntu
Blue Note
The first offering from Blue Note Africa imprint, Makhathini's In the Spirit of Ntu is fresh and profound. The record folds in all the various cultural influences of South Africa into a rich tapestry informed by the vibrant jazz scene both in South Africa and worldwide. Makhathini is a veteran pianist now, with 10 albums under his belt, but In the Spirit of Ntu is probably the best entry point I can imagine for this incredible artist.
Non Serviam – We Are Nothing But Your Krill
Trepanation Recordings | Review
It's been lovely to see avant garde black metal collective Non Serviam grow into underground darlings. What's even lovelier is that the music has remained worth talking about.
Chat Pile – God's Country
The Flenser
I know it's become a bit of a meme, but I genuinely can't let go of this album, especially "Why." It captures the sort of sorrow inherent in being an American today, and seeing everything is just designed to extract the maximum amount of suffering from those already with a boot on their neck.
MonoNeon – I Was Put on Earth for You
Independent
MonoNeon, the avant-funk prodigy multi-instrumentalist most known for being the last bassist to work with Prince before his untimely death, along with fairly frequent spontaneous appearances with P-Funk, seems to put music out at a breakneck pace with a sort of "everything goes" attitude. This is in line with the MonoNeon Artistic Manifesto. Dig it, live it. Earlier in 2022, I Was Put on Earth For You was released on BandCamp and it's so charming, with some profound moments. Also features bars from P-Funk's own Declaime on one of the tracks so there's plenty to draw a new listener in before they get overwhelmed with MonoNeon's avant-garde sensibilities.
Escaping Aghartha – Croak
Independent | Review
Escaping Aghartha has been another project I've regularly saved plenty of toilet space for. The nature conservation efforts present for each album, along with this record's turn toward experimental and noise-influenced moments were a pleasant surprise.
Biollante – J'espère que tu danseras quelque part
Trepanation Recordings | Review
French experimental hip hop mixed with metal and rock. Shares members with Non Serviam, so this brand of "anything goes" should be familiar to fans. Definitely something fresh to keep an eye on.
Zeal and Ardor – Zeal & Ardor
MVKA | Review | Interview
It's Zeal & Ardor, come on. Some people were a bit cold on the new metal influences creeping in on the new record, but I dug it, and the self-titled is worth your time. Check it out.
The Body & OAA – Enemy of Love
Thrill Jockey
I'm sure most everyone here is familiar with The Body. For those unfamiliar with OAA, they're an experimental electronic project that puts out EDM, IDM, noise, and breakcore-influenced sounds. This album is heavy heavy, and ended up rubbing off on me in a big way when I started finishing up work on my own album. Highly recommend.
Richard Dawson – The Ruby Cord
Domino Recordings
There isn't a Richard Dawson record that hasn't made me weepy, and the latest effort from the Newcastle Upon Tyne scop is no different. The Ruby Cord sees Dawson continue to pull from his incredibly vast toolbox for texture and composition, backing up his ever-poignant storytelling, in this case a set of tales set far in a future of unbelievable loneliness and isolation. If nothing else, the epic 41-minute opener is worth your time for what it accomplishes on its own.
Kaho Matsui – Hell is a Lifetime of Enduring
Independent
Here's where I regret being so separated from my own music scene. The Pacific Northwest is full of incredible experimental and noise musicians, and I've been a busy and very stressed little dude as evidenced by me putting out only a small handful of reviews this year. But this is some top-notch shit being put out by a musician just over the river from me. That break halfway through "haha, ok" is still something I think about from time to time while walking around.
365 Days of Horror 
10. ASkySoBlack – Autumn In The Water
Independent
ASkySoBlack is what the Deftones would sound like if they formed in 2005. Merging self-reflective post-hardcore and MySpace-era emo sensibilities, Autumn In The Water is a throwback to the era of white belts and swoopy haircuts. And you know what? It's been so long since we've had that that it comes off as fresh and interesting. All the old tricks are back. Reverb, delay, songs about girlfriends, and even spoken word passages about feelings. Autumn In The Water gives you all the angst and backs it up  with solid alt rock that would fit snuggly in with bands like Bleed and Narrow Head. If you feel like heading back to your childhood home and worrying about what that cute person in your class really thinks of you, this EP will do the trick.
9. Dog Fashion Disco – Cult Classic
Razor To Wrist Records
In their 20+ years of existence, Dog Fashion Disco have proudly done their own weird thing. With minimal label help, DFD have carved out a loyal fanbase that brought them back from the dead with multiple albums. This year gave us Cult Classic, a delightfully bizarre mixture of their beloved insanity. Longtime fans will immediately pick up the sounds and styles laid out by previous releases like Anarchists Of Good Taste and Adultery. The musical cocktail of metal, perverse humor, haunting melodies, and, yes, even upbeat horns, makes this album another solid edition to a wild-eyed and maniacal discography. Beneath the rollercoaster of genres lies biting commentary and sinister stories. DFD is not for everyone and they wouldn't have it any other way. Cult Classic gives us all the dark weirdness while listeners dance, shimmy, and shake.
8. StarForce – The Universe Is Mine
Independent
Like an asteroid crashing into Earth, StarForce hit me with enough speed and force to burn a hole through my chest. A chance encounter one random night searching through Bandcamp led me to The Universe Is Mine. Hey, sometimes having a good band name and cool art is enough to pique my interest. This supernova of an EP burns brightly, scorching listeners with blazing guitars, fiery, stratospheric vocals, and red-hot drums and bass. Even the intro is a fun bit of synthwave that makes me want to put on shades and drive through Miami at midnight. The Universe Is Mine will grab fans of heavy, trad, and thrash metal and never let them go. Though it just contains 3 songs (plus the previously mentioned intro), the album burns strong and shows that StarForce have a bright future ahead. Get into StarForce now so you can say you listened to them first.
7. Author & Punisher – KRÜLLER
Relapse Records
KRÜLLER expands upon the pounding and scraping soundscapes of Author & Punisher like waves of radiation against a metallic hull. While the usual hissing and banging remains, this time around melody finds its way through the noise. There is a beauty among the ruined industrial wasteland, like a gorgeous sunset fading behind a rusted abandoned factory. Much like the dazzling light shining off twisted metal and forgotten dreams, so too do the songs of KRÜLLER dazzle among the mechanical drones and electronic groans. Standouts like "Maiden Star" and "Drone Carrying Dead" are so rich and full that they should be the soundtrack to the next sleeper horror movie hit. Open your third eye and let wires, tubes, and gyroscopes invade your mind with the retrofuture sounds of KRÜLLER.
6. Ithaca – They Fear Us
Hassle Records
Raw, emotional, and real. That's Ithaca's They Fear Us in the simplest terms. If we're being honest, there's nothing simple about this album. Complex, layered, and doused with pain and severity, this album strikes nerves that few others can. Immensely talented and impossible to contain, They Fear Us combines the best of math rock, prog, hardcore, and metalcore to make something special. The chaotic instrumentation is enhanced by harsh, throaty screams and complimented by gorgeous cleans and soaring choruses. This album is a shot in the arm for a zombie genre that has been stuck selling 50 tickets to open for faded Warped Tour bands. Every song is an absolute banger and if you've ever put off listening to Ithaca, listen to They Fear Us right now.
5. Worm – Bluenothing
20 Buck Spin
Last year I had Worm's Foreverglade on my top 10 list and wouldn't you know who makes it again? Worm are back with Bluenothing.  This four track "mini" album burrows into your ears and lays eggs in your brain with wailing guitars, brutal melodies, and anguished, raw gurgles of malevolence. The juxtaposition between comforting beauty and jarring harshness makes Bluenothing an engaging and dynamic album. Listeners are taken on an audio journey, trudging through the cold, forcing your way past unforgiving landscapes, to complete a mystical quest of great importance. There's something menacing lurking within these songs that cannot fully be expressed. An unnamed, inconceivable malevolence barely contained by our own thoughts and feelings. Bluenothing is deep, dark, and not of this world.
4. Entropy – Death Spell
Crazysane Records
Did you hear rock and roll was dead? Well, no one told Entropy. You can subgenre them all you want (post-hardcore, indie, college alternative, whatever) but their Death Spell EP is, at its heart, a killer rock and roll album. With a sound ripped right out of the mid-'90s, Death Spell is a much-needed shot of life in a genre that has been left for dead by commercial entities. Despite only being 3 songs, each one is a winner mixing head-nodding riffs, pounding beats, and ear-friendly vocals. In another time, this would have been on every rock radio station in the country. May this be the revival that we've been waiting to happen for nearly 20 years.
3. Brutus – Unison Life
Sargent House
Although I had heard the name in the past, I had never checked out the Belgian 3-piece. Luckily for me, Unison Life came out of nowhere and hit me like a bolt of lightning. Each song is infectiously catchy and instantly memorable. The guitars, bass, drums, and vocals all work so incredibly well that almost every song could be a true hit. Songwriting and crafting are on full display as there is no wasted time or needless parts. I can't see any flaws in this album and the longer I listen, the more I appreciate what they have created.
The true standouts on Unison Life are the vocals and the lyrics. Singer/drummer Stefanie Mannaerts absolutely sings her heart out on every song. The clean vocals are gorgeous while the harsher ones contain a grit not heard in most mainstream music. Every sound soars, creating a unique and overwhelmingly memorable package. When it comes to the lyrics, I deeply appreciate the honest and creative approach. Just like the music itself, the words are another instrument. Full of meaning, reflections, hopes, and fears, each song is worth pouring over the lyrics and truly understanding what this album means. Achingly beautiful and unflinchingly honest, Unison Life is now the blueprint. All other bands, take notice.
2. Stabbing Westward – Chasing Ghosts
COP International
Back in 2020, Stabbing Westward's Dead And Gone EP made it into my Top 10 list. It was the first new music from the band in 19 years and it picked up right where the band left off. This year, the band released Chasing Ghosts, their first studio album in 21 years. Including the 3 songs from the EP, Chasing Ghosts is rife with the band's signature industrial sound. All the electronic blips, bleeps, and metallic scrapes and bangs are there. Christopher Hall's vocals remain as clear and smooth as ever, gliding over Walter Flakus' distinctive keys. There are goth club bangers for you to do Wednesday Addams dances and depressive bummers to rock back and forth. So, really, there's something for everyone.
Drenched in angst, contempt, and desperate reflection, Chasing Ghosts is everything that Stabbing Westward has ever been. Deep, dark, emotional, and, if we're being honest, pretty sad. For a band that formed in 1985 and has gone through several changes, Chasing Ghosts fits in any era. It's a hell of a return and, if this were to be their final album, a hell of a goodbye. Fittingly, the very last song is titled "The End". If this is indeed the end for Stabbing Westward, they've left an unforgettable exclamation point on an incredible career.
1. The Halo Effect – Days Of The Lost
Nuclear Blast Records
For years I've been asking "Where is the Gothenburg Sound revival?" It seems that many other metal subgenres have gotten their times to shine once again in recent years. Death Metal is currently in its 20th upswing. Every 3-4 years sees a return of thrash. Hardcore had its moment to shine with several bands succeeding enough to change their sound and receive Grammy nominations. Even nu-metal had a little nostalgic pop for a couple of months. Still, not much from the melodic death metal crowd…until this year.
The Halo Effect features former members of In Flames and current Dark Tranquillity vocalist Mikael Stanne, who it should be pointed out was the original vocalist for In Flames. While DT still pumps out consistent albums and the modern version of In Flames is tepid at best, The Halo Effect come out guns blazing on their debut album Days Of The Lost. Instantly catchy and incredibly infectious, each song is a reminder of this niche sound that is sorely missed in today's modern scene. The blending of appealing riffs and Stanne's steady bark make for an entertaining and engaging listen. Each song feels big, an undeniable anthem compelling us further into the unknown with gritted teeth and clenched fists. It's enough to get this old man into the pit one more time and, hopefully, get the genre back on its feet for a new generation.
Honorable Mentions: Astronoid, Amorphis, Venator, An Evening Redness
Snooty McWords
The year is 2022, which is a nonsense number of sci-fi future backstory, yet also a year that is now history. It is the grassy space between funeral plots where our feet briefly rested after having clamored out from the voters grave of 2020 before stepping into the looming electoral hole of 2024.
10. Kim Kelly – Fight Like Hell
Atria/One Signal Publishers
The rock'n'roll ethos of 'sticking it to The Man' is best embodied in this year of our lord by a book, a formidably stacked tome of labor history, diligently and lovingly exhumed by metal's very own Kim Kelly.
This brutal slab of word-riffs pummeled me with an unrelenting cacophony of knowledge, pulverizing ignorance and obliviousness with all the subtlety of a bolt thrower. Facts hyperblast my feeble cranium into a state of primal trance, shredding misconception and stereotype into an effigy of the forgotten. Scorching anecdotes erupt from the pages, accompanied by face-melting citations which encouragingly remind me that when faced with looming catastrophe and abuse by the hands of capitalists, the necessary solutions fit neatly in the palms of our collective hands; whether it be a tidy 400-page book in one, or a
[redact]real-hot-can-of-soup[/redact] in the other.
9. Verb Tec & Vanderslice – No Struggle No Progress
Independent
This late entry from last December feels tailor-made to my tastes somehow, an expertly-balanced tightrope act pacing the fine line between the smoky smoothness of boom-bap and the up-front urgency of cocky Big Name Rap. Verb Tec's self-assured delivery walks me through a nationwide city dissection with the aplomb of a ghost tour, pointing out each and every skeleton, unsolved mystery and justice left undone.
Barely a minute into the first track "Repatriation" Verb and Vanderslice already come swinging with the words "Babylon you renovate your philosophy, you fuck the people to stimulate the economy, a collective statement on reparations in common sense, until then we'll keep excavating your monuments" bouncing off the weathered brick of my salt-encrused brain while samples and warm guitars moan their bluesy licks.
In particular, I reserve a special place in my heart for everyone who takes the 'all killer no filler' approach to their labor of love as I'll gladly settle myself in for repeat spins of a 25-minute bottle of top-shelf audio packed to the snapback brim.
8. Wormrot – Hiss
Earache Records | Riff-Raff
To me, this album is a rapturous sonic delight, a rare gem that smartly exhibits a loving attention to detail as well as a penchant for punchy recklessness, somehow playing to the strengths of both simultaneously. The more I listen, the more I revel in the twangy flavor, cheeky composition and lively tones of Rasyid's guitarwork, with his nearly inhuman sense of how to combine unexpected melodic twists and rhythmic  turns into a cohesive whole, fueled by the thermonuclear powerhouse of Vijesh's brain-pummeling drums and Arif's near-continuous vocal unhingement.
The overall vibe and energy level strikes me as if it were the spiritual successor to Nasum's unparalleled Inhale/Exhale, separated by only two decades and a hemisphere. And in this actively rotting millenium, it feels good and true to be able to spin up an equally reassuring yet ominous nail-biting fistpumper of an anthem like "When Talking Fails, It's Time for Violence".
7. Margaret Killjoy – Cool People Who Did Cool Stuff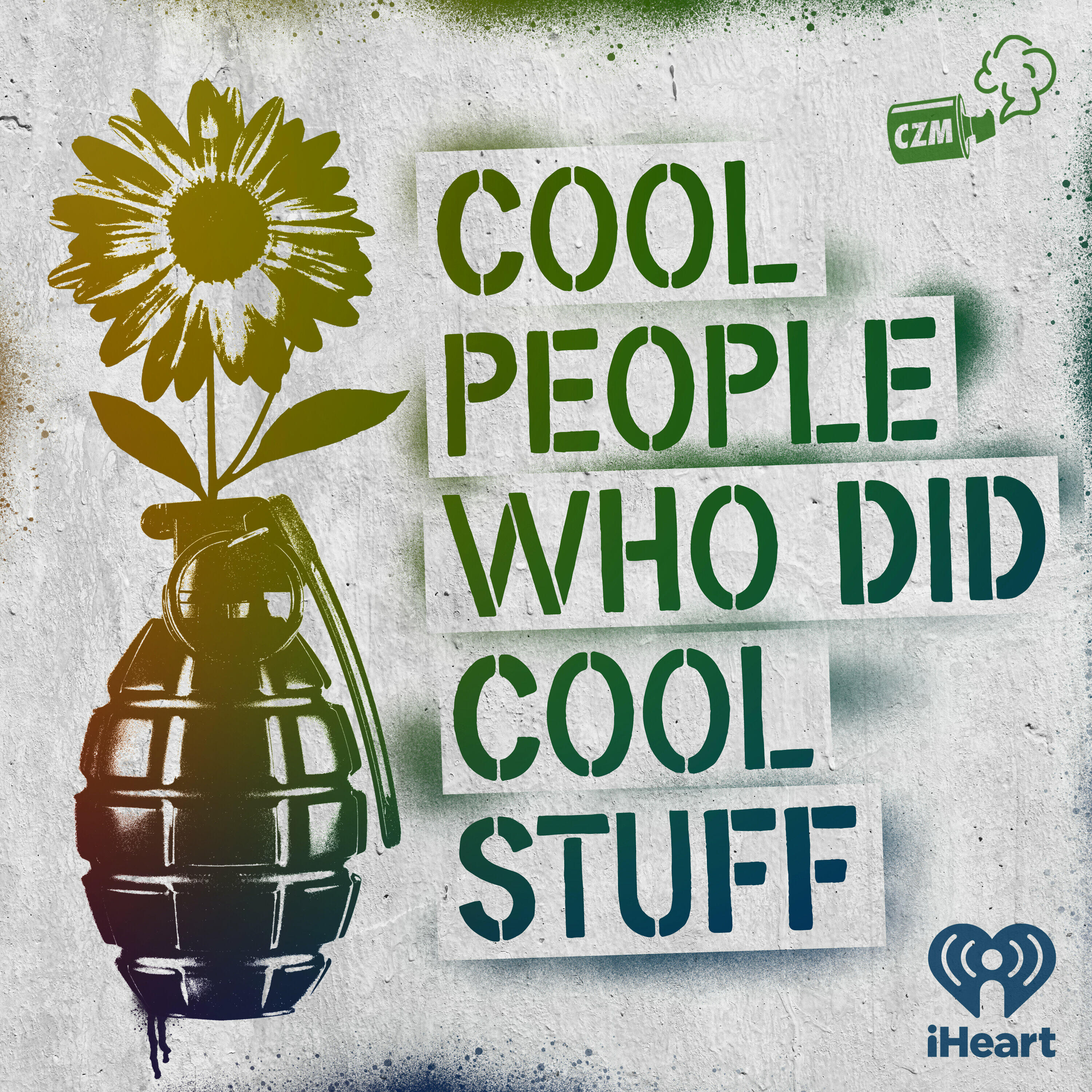 Cool Zone Media
We are all painfully aware that the world, and indeed most of history, is full of bad people doing bad stuff, or at the very least, clueless people doing reckless stuff. This makes it all the more surprising and delightful to discover that sometimes, even oftentimes, there are also people who have made extraordinary efforts to do decent stuff in indecent times. The ever delightful Margaret Killjoy belies her namesake and smartly and comfortingly weaves tales of history that are as keen on being open and honest as possible while also elevating the highlights of inspiration found throughout communities and history, and also deftly avoiding the tempting traps of hero worship or idolization. Over and over again, I found her inviting and even soothing approach to be the perfect yin to Behind the Bastard's yang, and one I am increasingly thankful for, especially as the ideas and necessity of creative resistance and imagination grow ever more essential and reassuring in the slow motion car crash that is daily life in modern civilization.
6. Iron Front – Left Out To Rot
Independent
I am curious about this band so I pushed play on the music player. It sounds like a cheesecloth full of warm sewage hitting me on the side of the face. The riff I am hearing, it is very dumb. The edges of my mouth curl upwards into a grin so wide that it makes my brain smaller and now I am dumb also. A guitar solo plays. A song is about to end, but then it doesn't because the riff returns. My head flies off, insha'allah.
5. Deca – Smoking Gun
Beulah Records
Another high-wire juggling act of a hip hop album, Deca's 10th offering showcases a well-crafted combination of lo-fi beats, sample magic and hi-fi delivery. His songs feel similarly rooted to me in a kind of boom-bap tradition, always my favorite hip-hop tone, but cleverly layers on his laid-back and near stream of consciousness intonation. I particularly enjoy the consistently thoughtful cadence and variety on display, ranging from some slower, almost chillwave interludes up to poetry slam mic drops, all peppered with a whole host of old documentary and tv show samples sliced and diced to make his points that much more incisive. All of these ingredients come together in some of my favorite time changes, like at 1:30 of "Turning" where he pivots from meditatively musing about chasing paychecks to the eyeball at the top of the dollar bill pyramid, to rapidfire bars about human evolution over an enigmatic uptempo down beat.
But certainly what is most important and impactful of all is that he's putting on a show at Your Mom's House on December 16.
4. Fake Meat – 腐肉
Independent | Review
I have gratuitously soiled myself. My undergarments bulge with towers of bilge. An everflowing stream bubbles out of my glacial crevasse and pools in my boots like primordial lagoons. Like quicksand, I must lay flat to avoid sinking into the fossilizing tar mass. Flapping my legs and arms back and forth, I make a slop angel. I can feel my sphincter quicken, the dangling polyps burgeoning with excitement. Volcanic bile erupts from my hypothalamus, eroding macular calcifications into weathered cranial fistulae. My knee hurts. As effusive gases seep out my auricular canal, I wonder what it was that brought me to this point, and if I would ever again feel relief from the ever-present grinding of bony skeletons, like trying to start a fire by rubbing a steel fork on a porcelain plate.
And then I listened to this album.
3. Sélébéyone – Xaybu: The Unseen
Pi Recordings
This one is another unusual one to properly reflect on, itself already a kaleidoscopic reflection on an eclectic overlap between hip hop, jazz and spiritual electronic art-house. Whereas groups like Igorrr create a kind of worldly musical sideshow carnival tapestry, Steve Lehman and the Sélébéyone crew veer into a similarly fractured, yet more eerie and contemplative subterranean realm. My listening journey may be as equally bumpy, but is a path inwards rather than out, carried fluidly between breakbeats and high octane improvisations, and one I find to be equal parts beguiling and unexpectedly natural in this whirling dervish of sound. Even the shifts in languages from French, Arabic, English and Wolof are fluid, though the realm they call towards is strangely unsettling.
As untethered as the project is, it somehow makes sense that it is rooted in Sufi spiritual traditions, celebrating both tomb and shroud of ego, with the referenced Mevlevi Order formed in the now Turkish city of Konya in the most auspicious year of 1312.
The sounds of liberation to me are equally freeing and joyous, but also discomforting, unpredictable and disquieting, in ways that give room for new thought, imagination and experience not limited by expected patterns or routine.
2. Castrator – Defiled in Oblivion
Dark Descent Records
I loved their No Victim EP and am equal parts delighted that Castrator has returned as a fully operational band and also extremely bummed that I missed their tour this year with Escuela Grind. So I soothe my ruffled feathers with this excellent death metal monument instead, a satisfying and warming balm to my wounded enthusiasm. And to be perfectly clear, I know they aren't attempting any kind of grandiose innovation or expansion of the genre with this one, but this record is all the better for it because sometimes all I want is (fake) meat and potatoes. I am delighted by the rhythmic downbeat emphasis that eschews the ongoing trends of cavernous OSDM in favor of a NY-style that hints more of early Suffocation, with a preference for punishing the listener through blasting enbludgeonment and bony tempo changes.
Combined with incisive and equally punishing lyrics, and even soundclips of Malala Yousafzai to set the tone, it makes for a personally refreshing post-mortem on the presently ongoing social exsanguination of humankind, perhaps best encapsulated by the fact that of the 162,966 bands currently on metal-archives, Castrator is one of only three whose lyrical themes are listed as "anti-rape".
1. Lastly, Number 1 goes out to all the music friends and collaborations started this year, not because my contributions are particularly noteworthy or ground-breaking, but because it's been a blast to do and I've really enjoyed an ever-increasing reach of collaboration and communal inspiration across the international scene and hope to continue that trend into the future (for as long as one exists), and look forward to sharing many of those and more with y'all in 2023!